Since our start in 1979 we have performed over 5,000 shows.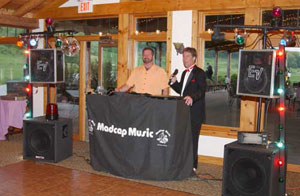 MADCAP MUSIC is a professional full time entertainment business.

We are specialists in providing eloquent and exciting wedding entertainment. Our D.Js take requests and work with the crowd to get everybody dancing. Our lights and sound provide excitement and fun.

Many large companies, schools, and civic groups use MADCAP MUSIC year after year, they've found there is simply no other entertainment alternative in Wisconsin that offers as much quality entertainment at such an affordable price. We've become one of the largest entertainment organizations in Southern Wisconsin and Northern Illinois for one simple reason, we work hard to make every dance a truly memorable and enjoyable occasion. We'd like nothing more than to be at your next function.