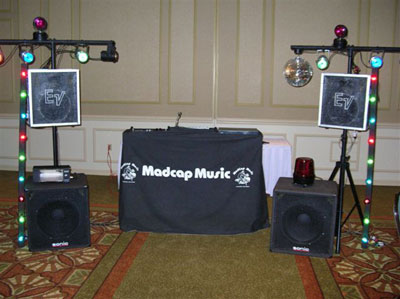 Sound System
We match the sound to the group size, type of dance, location and your request.
Our sound is the clearest in the city, we use professional equipment built especially for portable DJs, it concentrates the music on the dance floor and minimizes hissing and gravelly noise.
We have big enough sound systems to entertain 1000's and small enough systems to entertain in your basement.
Light Show
Not gaudy disco flashing but a tasteful light show.
Our typical show includes strip lights, sweep lights, spot or rain lights, police light, strobe light, mirror ball, light organ. We also have a *fog machine and *bubble machine (used when available and appropriate). We match the lighting with the occasion and group so we can provide more or less based on your needs.
Music
Over 8,000 song selection
All Cd
We always bring backup equipment to each show